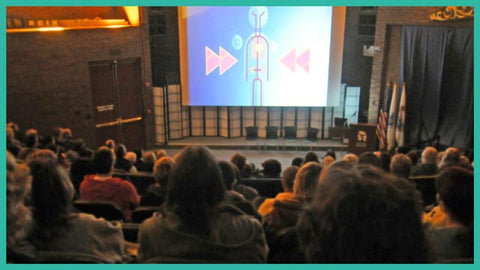 Host a Live Screening
You can host a screening of our films in a wide range of settings including cinemas, schools, universities, hospitals, businesses, conferences, local yoga studios, or as part of a health or meditation program. 
Our work takes a great deal of time to research, produce and disseminate. Although we are committed to making our blogs and podcasts freely available, when you buy a screening licence you are directly supporting our long-term sustainability. Your support will help us to keep making films that spark meaningful change for good.
Your event screening licence comes with: 
A link to download a high-quality HD copy of the film as an .mp4 movie file. (If you need to buy a DVD please go to our store.)
Your Screening Information Package which contains your Screening Licence (a copy of the terms and conditions associated with your selected licence), your Screening Guide (a step-by-step guide on how to host a successful event), and promotional materials (including the official film poster, logos, artwork for scan media, design templates for an event invitation/flyer, image stills from the film, profile photos of people featured in the film etc.)