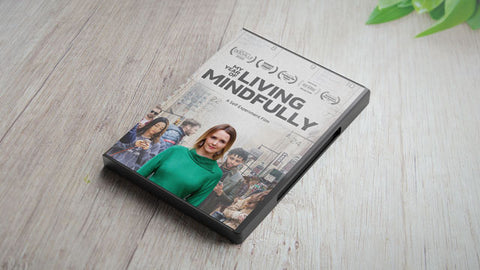 My Year of Living Mindfully (DVD)
Own 'My Year of Living Mindfully' on DVD. Shipping now.
WHAT YOU GET:
a PAL or NTSC formatted DVD of My Year of Living Mindfully (98 Mins)

Please note: Closed Captions are not available on the DVD.
Synopsis:

Overwhelmed with insomnia and an incurable autoimmune disease, Shannon Harvey needed to make a change. But while the award-winning health journalist found plenty of recommendations on diet, sleep and exercise, when she looked for the equivalent of a 30-minute workout for her mental wellbeing, there was nothing. 
Worried for the future mental health of her kids who were growing up amidst epidemics of stress, anxiety, depression and addiction, in a world-first experiment, Shannon recruited a team of scientists to put mindful meditation to the test. But after a 30,000 kilometre journey from the bright lights of Manhattan to the dusty refugee camps of the Middle East, what begins as a self-experiment, transforms into a life-changing experience.
My Year of Living Mindfully is filled with compelling stories, interviews with 18 leading scientists, and unexpected insights that go to the heart of what it means to be human in the twenty-first century.
Run time:
1hr 38min
Release Date:
04 June 2020