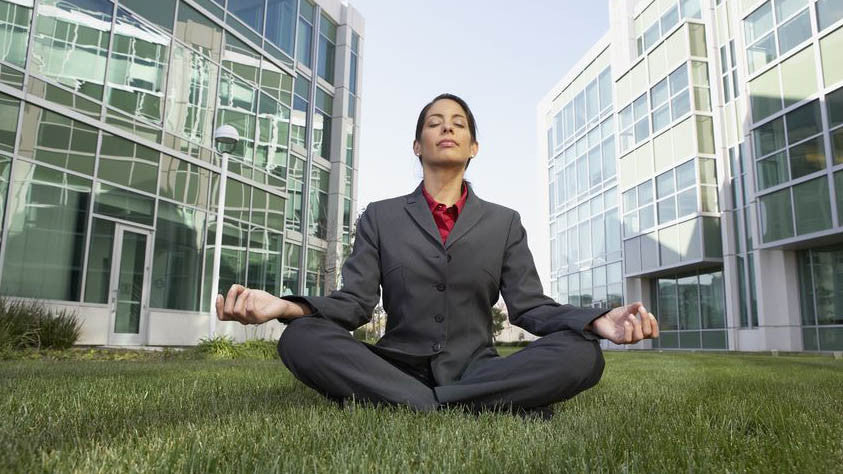 You would expect the business card of a man who was one of the first people to be employed by Google to read Head Programmer or Manager of Digital Innovation, but when Chade-Meng Tan handed me his card, it gave him the title of 'Jolly Good Fellow' with a subtitle 'Which nobody can deny.'  
Meng's job description at Google is to enlighten minds, open hearts and create world peace. He was awarded this noble position after he spent his 20% time - the time Google engineers are allowed to spend on something other than their regular job, developing a program to teach his stressed out colleagues about mindfulness and emotional intelligence.  
Thousands of Googlers have now done the program, which uses evidence based mindfulness, emotional intelligence and neuroscience to encourage productivity and creativity, as well as help people find meaning and fulfillment in their work and life.   I recently met Meng and his team behind the Search Inside Yourself program while I was at the Google campus in California to screen my film The Connection.  
The Googleplex was everything the fairy tales say, complete with Gen Ys wearing black hoodies, holding laptops, riding skateboards and sliding from floor to floor on slippery dips. But to work there, you have to be the best of the best and stay on the cutting edge of digital innovation. The pressure to perform is enormous. But rather than taking a burn and churn approach like so many other soulless corporate behemoths, Google has gotten behind Meng and his Search Inside Yourself program.   Before my visit, I'd read Meng's book named after the program and was impressed that it has a solid foundation in the latest scientific research, including the work of the pioneer of mindfulness in a medical setting, Jon Kabat-Zinn and neuroscientist Sara Lazar, both of whom I interviewed for my film. I was also aware one of his projects has just been nominated for the Nobel Peace prize. The One Billion Acts of Peace campaign's goal is to inspire one billion acts of peace worldwide by 2019. Needless to say, I was smitten before we even shook hands.  
But what really blew me away was meeting the team behind the Search Inside Yourself program and discovering that they're now reaching out beyond Google. The client list includes other Silicon Valley giants like Linkedin and Autodesk but also mainstream heavyweights like Ford and Comcast. They've been featured in pretty much every mainstream press you can name from the New York Times to the BBC.  
They're even going global. My hometown in Sydney will be hosting a two-day Search Inside Yourself seminar in March among other events in places like Singapore, Tokyo and Paris. The Sydney event is targeting Australian movers and shakers and people have signed up from organizations like Nestle, Microsoft, News Limited and Suncorp.   The last time the event ran they had 350 top dogs with survey results showing 89% reported improved ability to reduce stress, 79% increased energy levels and a whopping 91% improved their ability to remain calm.  
As people who have already seen my film will know, I made The Connection after I was diagnosed with an autoimmune disease. At the time, I was a young and ambitious journalist in a work environment that taught me in order to get ahead I needed to give everything, my health included. After researching the latest science coming out of places like Harvard and Standford, I discovered that the state of our mind plays a direct role in the outcome of chronic illness and over a number of years and after some life changes, I became well.  
As I spoke about in my talk at Google, I am now on a mission to tell other people about this research and hopefully move mind body medicine out of the shadow of being seen as hippie juju, into the mainstream. Just imagine a world where a person newly diagnosed with something like chronic fatigue syndrome is recommended an eight week mediation course by their doctor.  
We released the film just a few months ago and already the shift is on. In fact the reception from mainstream medical circles has been tremendous. But my trip to Google added fuel to my fire because the organizers behind Search Inside Yourself are targeting thought leaders within powerful organizations.  
What comes with a huge company like Google endorsing these ideas is a kind of corporate permission to set a brave new agenda and to re-imagine a future where our leaders give us their blessing to take time to breathe.  
I am full of hope for what is to come.   If you're interested, you can see the talk that I gave when I went to Google here.